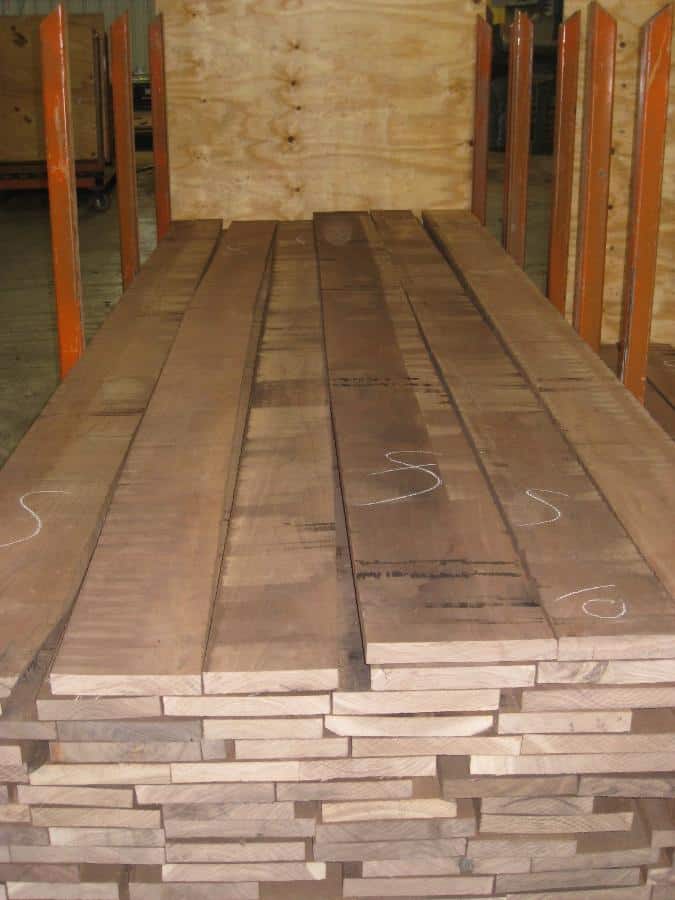 Walnut is a great wood source for many uses. It is milled into a variety of lumbers purposed for a wide range of projects. Walnut has a strong and unique grain and a relatively consistent color pattern, log to log. Walnut lumber is acceptable for outdoor use but should remain covered during wetter months. Walnut is relatively plentiful and affordable when compared to similar hardwoods. Walnut is probably best known for its characteristic, dark brown, dulled purple hues that are unique to this wood species.
[text-blocks id="2910″]
Walnut is a moderately strong hardwood, making it perfect for architectural woodwork, hardwood floors, mouldings, entry and interior doors, custom furniture, gun stocks, cabinetry, door and window trim and casings, baseboards, and veneers. Walnut is relatively easy to machine and finish and it takes glue well. Walnut is known for being a very tough hardwood, yet it is unique in that it can be molded and shaped with hand tools and power tools alike. In fact, walnut is often a preferred choice amongst builders and woodworkers for its hardwood characteristics and unique workability.
Distinct Traits of Walnut
Walnut grows right here in North America, ranging across the Northeast, Midwest, Eastern Seaboard, and Southeast. Walnut has a fine grain and a rough, coarse texture. Walnut can be turned, carved, and manipulated into different shapes quite easily if the right tools are available. The inherent, coarse texture of walnut dimension lumber can be sanded down easily or left rough. The wood is almost instantly recognizable thanks to its signature dark brown and lighter, chocolate brown colors.
Walnut is very similar to Red Oak in density, texture, hardness, tensile strength, and longevity. Walnut is somewhat easier to work with and accepts a wider variety of turning and carving potential, so it is often used as an alternative to oak when specific projects are in mind.
Walnut is best known for its use in cabinet making. The unique, chocolate brown color added to by its relative ease in workability makes it affordable to manufacture into cabinets while also being quite aesthetically pleasing. Walnut cabinets have a very distinctive color and grain pattern that is growing in popularity. Walnut lumber is also finished into gunstocks and rifle butts for its unique ability to absorb recoil.
[text-blocks id="2910″]
Types of Walnut and Their Uses
There are several subspecies of walnut. The most frequent ones are:
English Walnut
Circassian Walnut
European Walnut
French Walnut
Common Walnut
Black Walnut
Claro Walnut
Peruvian Walnut
The above subspecies are relatively similar one to the next and offer similar traits and benefits to consumers. All of the above walnut subspecies are relatively easy to work with as long as the grain is followed and surfaced with the appropriate equipment. Walnut is rarely stained as its natural, rich luster and unique brown finish is desirable in an unaltered state. However, when it is desired, walnut can be stained quite easily.
Walnut is a very durable wood. It can be used for outdoor purposes, though appropriate finishing is recommended to preserve the wood fully and to prevent water damage. Walnut is susceptible to insect attack but can be treated to prevent insect infestation without altering the finished appearance of the wood.
The above subspecies of walnut are milled for their aesthetic appeal more than anything else. Walnut is frequently used in stringed instruments such as violins, fiddles, cellos, lutes, guitars, etc. The rich, dark, aromatic nature of the wood combined with its ease of carving, turning, and milling makes it any woodworker's or carver's "dream wood" to work with.
Walnut achieves a similar result in durability and longevity of the finished product as that of cherry and oak, all without being nearly as difficult to turn, carve, and mould. Furthermore, walnut almost never needs to be stained or heavily varnished, reducing the number of steps needed to complete a project.
[text-blocks id="2910″]
Wood Vendors Offers Exquisite Walnut Lumber
Here at Wood Vendors, we offer resplendent cuts of walnut lumber. We have rough-hewn pieces, live edge walnut slabs, rough walnut slabs, Black Walnut lumber, 4/4 walnut lumber, dimension cuts, and walnut mouldings. We process our walnut thoroughly to preserve it and to ensure it takes glues, finishes, stains, varnishes, epoxies, etc. We steam our walnut to blend the color difference that walnut has between the sapwood (white) and the heartwood (dark brown).
Walnut lumber is a beautiful and very workable lumber to turn and mill, and our staff at Wood Vendors can customize orders and arrange a specific shopping list for our customers depending on their needs. Feel free to fill out our online form or call our direct line at 1-877-983-6367 to get started on your walnut lumber selections.
[text-blocks id="2910″]