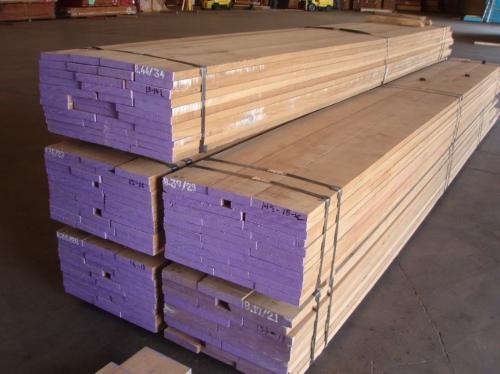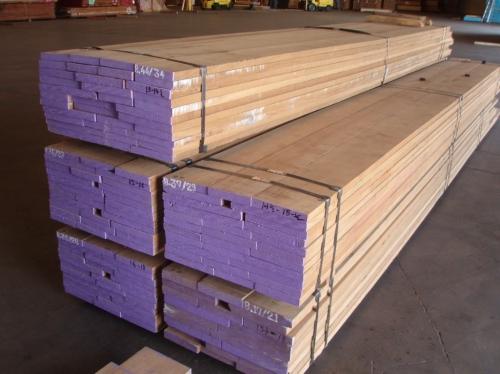 Teak lumber is a unique lumber with special attributes. Teak wood comes from a tropical, hardwood tree. Teak logs are sourced from India, Sri Lanka, Indonesia, Myanmar, Thailand, and Laos. Teak logs are brought to the United States for their unique properties, fragrant, leather-like smells, and woodworking attributes. Teak is particularly valued in woodworking and building projects for its durability and natural water resistance.
One can build just about anything out of teak, but most woodworkers, carpenters, and artisans tend to utilize the water-repellant properties of the wood and use it in boat building, outdoor furniture, exterior construction, veneer, and artisan carvings. The heartwood of teak holds a sort of yellowish hue, which darkens as it ages. The sapwood of teak has a lighter, more whitish tint.
An Excellent Lumber
Teak has several characteristics that make it a desirable lumber. The wood's naturally high oil content, high tensile strength, and tight wood grain make the lumber an excellent choice where weather resistance is a desired trait. This is why teak is used in structural boatbuilding to this day. Teak is also used in high-end, outdoor furniture, and boat decking. Teak can be found in countertops and indoor furnishings, cutting boards, and outdoor decks. It is a very durable wood that self-protects from consistent water exposure.
Teak has other attributes that make it desirable in the U.S. For example, teak is resistant to termites, carpenter ants, and other insects. The organic silica that occurs in teak wood acts as a natural repellant for most insects and some larger pests. While teak is relatively malleable to carving and molding, it is a very strong wood. In fact, teak is known for blunting tools that are used on it, as the oil and silica components of the wood seem to repel sharp instruments.
[text-blocks id="2980″]
Best Uses for Teak
Teak is a desirable wood for its durability and its longevity. It can take more abuse than most lumbers can, and it outlasts other woods that are even denser and more carefully finished. For those reasons, the top uses for teak are:
Marine decking. Teak lumber is often used in marine decking as it is resistant to salt water, sun exposure, humid temperatures, etc. The most beautiful of sailboats, motorboats, yachts, and even cruise ships often have teak decking and paneling.
Outdoor furniture. Want an outdoor furniture piece that lasts for more than a few years? It will likely need to be teak. Teak furniture is not only artistic and beautiful, but it is naturally resistant to the elements and will last far longer than alternative lumbers will.
Teak flooring. Teak has a yellowing and whitish luster to it that is very appealing and is therefore often used inside a home as a flooring option. Teak flooring is desirable too as it retains its luster and shines almost indefinitely, needing very little maintenance or refinishing. It is also highly resistant to bumps and scrapes.
Teak millwork. Because teak can be molded and crafted to make beautiful wood creations, master carpenters often use teak in millwork projects, such as custom window openings and door frames. Teak lumber is built into the trim work of some homes to accomplish similar purposes as teak flooring. Teak window frames and trims, baseboards, banisters, door frame and doors, it all combines to present excellent woodwork that creates exquisite styles and finishes throughout a home.
Teak art. Teak has an inherent, unique look to it that is unmistakable. And teak lasts, hundreds of years if finished properly. For these reasons and others, teak is often planed and routed, carved and whittled, etched, epoxied, singed, sanded, varnished, coated, and otherwise molded into beautiful, artistic creations that can be enjoyed for decades.
Indoor furniture. Teak is not only used for outside furnishings but is often used indoors too. Its water resistance and its natural oils and silicas make it ideal for making furniture that is resistant to bumps and bruises, scrapes and spills. A good piece of teak furniture will likely outlast its owner and can be passed down generation to generation.
The Best Teak Lumber Available at Wood Vendors
Wood Vendors is fully stocked with a wide selection of teak lumber pieces in rough-hewn, live edge slabs, book matched slabs, finished pieces, teak moldings, and teak boards of any size. Our teak selection allows for a custom order, where you can pick and choose your pieces, dimensions, and styles of teak. If you have a specific characteristic in teak lumber you are looking for, please don't hesitate to ask! You can fill out our online form or call our direct line at 1-877-983-6367 to get started on your walnut lumber selections.
[text-blocks id="2980″]