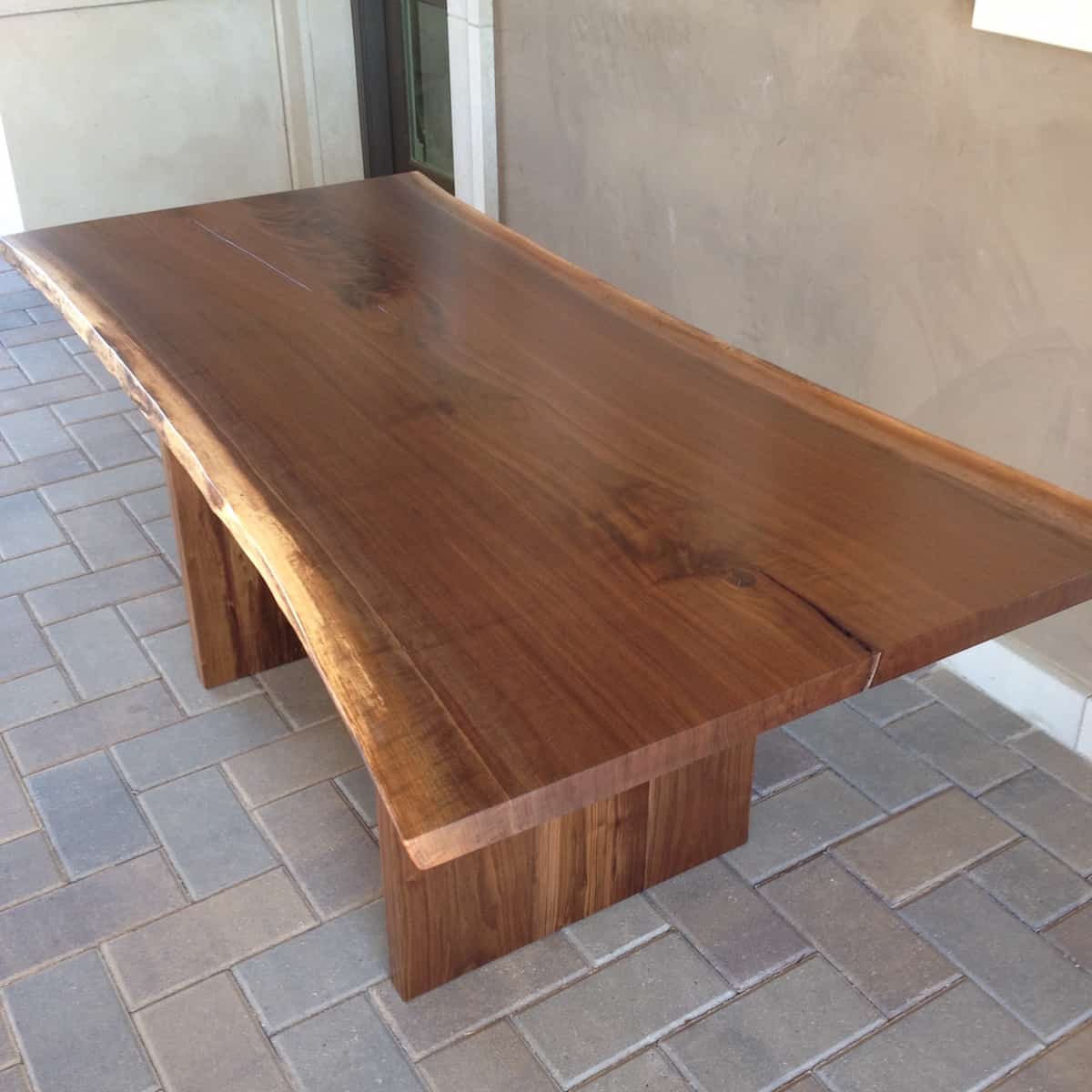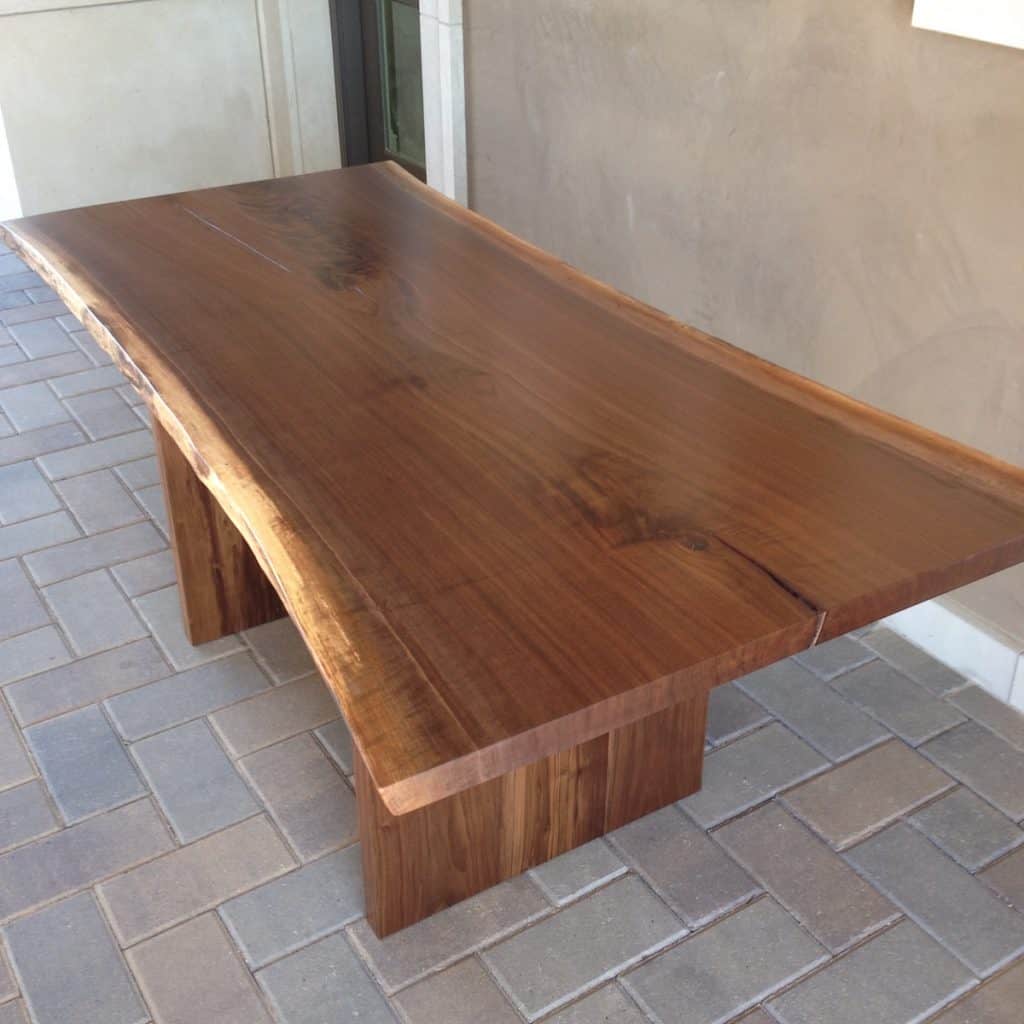 "Live edge" furniture. Even the name itself is interesting and exciting. Live edge furniture is a very detailed, specific, and ornate method of log milling, a technique used to preserve the natural contours and rough, barked exteriors of a log. This method of milling is growing more popular and understandably so, as it's a great way to make some of the most exquisite furniture possible.
How Live Edge Tables and Tabletops are Made
Live edge tables and tabletops are made through a very specific process that preserves the natural beauty and appeal of the log. Live edge slabs (also sometimes called natural edge slabs) are made through the following steps:
First, the log is cut horizontally, the full width of the log being sheared into individual, one inch to several inch-thick slabs, depending on the desired thickness. The log is not turned, squared, or adjusted during the cutting process. One log that is a foot in diameter could easily turn out several slabs of premium, live edge pieces.
Depending on the width of the slab and the desired dimensions for the tabletop, one, two, or even three slabs are selected for the tabletop. The most exquisite tabletops are made from one, very large, very wide slab.
The next step is to begin routing, planing, and sanding the slab down, without a doubt the most lengthy process in the endeavor. As the slab is sanded down, woodworkers will chip some of the bark off the edges of the piece, preserving much of the natural look while also removing some of the excess material that would otherwise decay.
Once the slab is fully sanded to the desired smoothness and grain visibility, any existing cracks in the slab are mitered or joined together with additional wood pieces to preserve longevity, giving the slab an exquisite "sistered" look.
Next, small cracks, pockets, pinholes, and anything that could hold air is filled with a viscous epoxy to preserve the slab.
The last step is the longest, as it is the "seemingly endless" varnish step. Coat after coat, dry-period after dry-period. Depending on the species of wood, the varnishing step can take days to complete, the slab needing many coats of different finishing product to obtain the perfect luster and glow. As the face of the slab is finished, so are the sides, their natural wood grain, remaining bark, and contours varnished and epoxied as necessary to retain their organic look.
Finally, the slab is completed, and the tabletop is ready for legs or a stand. A lengthy and involved process indeed, but worth every hour of work.
[text-blocks id="2947″]
Roughhewn and Finished Tabletops
Completing a live edge tabletop takes a great deal of time as one can clearly see, and it requires special tools and equipment for some of the steps. However, slabs can be delivered to customers at any stage of the finishing process. Customers can order roughhewn live edge slabs, which are exactly as they come when first milled from the original log.
Such slabs will take the most work to finish but are the most affordable as an initial purchase. If customers prefer, they can order partially finished slabs, which have most of the routing, mitering, and sistering completed, but which still need a good deal of sanding and varnishing in order to expose the wood grain to perfection. Such finishing can be accomplished with basic sanding tools. Some customers like to purchase slabs at this stage so they can experience some of the finishing processes for themselves.
Some customers prefer to purchase slabs in their fully completed form, varnished and finished to perfection, ready to last a lifetime or longer and bring enjoyment throughout that entire time.
Live Edge Tables are a Unique Addition to Any Space
Live edge tables are a great way to add a wild, untamed, aesthetic beauty to any space. It is the closest one can get to bringing a real tree into the home and still being able to use it as furniture. A live edge table presents an allure like no other, a call of the wild and a sort of trophy beauty. Live edge tables clearly show the level of work and care needed to create them, a labor of love that adds to their value.
Live edge tables in the form of live edge slabs or book matched slabs are found in homes and commercial buildings and are perfect for high traffic areas. Whether they rest in conference rooms, parlors, dining rooms, lobbies, or any other location, these resplendent tables are a physical reminder of the nature from whence they came, a physical testament to the tree itself.
If you are interested in a live edge table or live edge tabletops, don't hesitate to use Wood Vendors as your premier source for exquisite, live edge wood slabs. Our customers pick from our selection of hundreds of one-of-a-kind live edge slabs. No two slabs are alike. To get started, fill out our online form or call our direct line at 1-877-983-6367 to get started on your walnut lumber selections.
[text-blocks id="2947″]