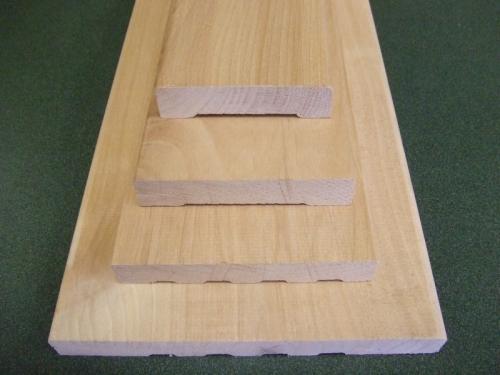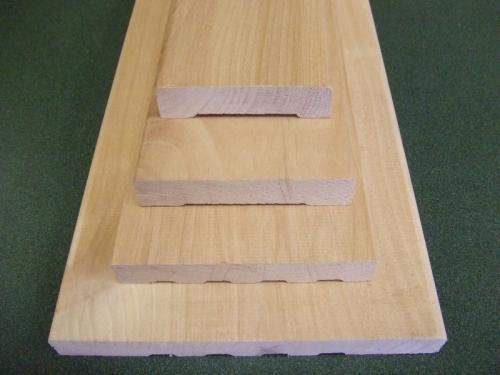 When choosing lumber for a project, it's important to know the options available. There are many kinds of lumber that one can use, and the project at hand will influence which lumbers will work best.
When buying lumber for a building project, purchasing raw mouldings direct from the mill is a great way to save money and to get great lumber to work with too. Raw mouldings can be purchased in any size, type, length, dimension, species, and density. A personal favorite amongst many of our customers is our Knotty Alder mouldings.
Knotty Alder Lumber
Knotty Alder is a unique species of lumber, known for its unique grain, sound knots, color variation, and strong grain. Knotty Alder can be found in a wide variety of building applications from residential homes to commercial trims. Because of its unique look and strong knots, Knotty Alder is often varnished or stained but rarely painted over. The wood is simply too beautiful and each piece is too unique to cover the surface up fully. As a result, Knotty Alder trim mouldings are most often found in log homes, cabins, and more "woodsy" type homes.
Knotty Alder can be found across the northern regions of North America, originating most predominantly in British Columbia in Canada, but also coming down into Washington State and Oregon. Some parts of California have Knotty Alder forests as well. Knotty Alder usually appears as a light red in its rough-hewn form, but it darkens to a richer, more pronounced red when it is finished and properly preserved.
Knotty Alder has even more color ranges than the above. The wood can be a light brown or even a dull peach color. The heartwood is the reddest part of the wood. The sapwood is almost white. Knotty Alder mouldings are used as baseboards, window trim, door trim, stair treads, risers, and runners. Entire homes are built with Knotty Alder as the primary trim wood for the interior of the home.
[text-blocks id="2938″]
Benefits of Knotty Alder Lumber
Perhaps the most noticeable benefit to knotty alder lumber is the tight, sound, beautiful and unique knots the wood has throughout each piece. This gives the wood a unique and pleasant look to it, with nothing looking quite like this wood. Every knot is of course totally unique, giving the wood a crafted, almost wild, natural appearance. The wood is relatively soft and malleable too, making it perfect as a trim and moulding wood. The wood is easily worked over with both hand and power tools.
Knotty Alder trees do not grow that large before they meet their peak, so this is another reason why this species is often converted into six inch trim boards and smaller. As Knotty Alder is indigenous of North America, it is more on the affordable side of lumber options while still looking quite exquisite. This makes the Knotty Alder more appealing for outfitting entire homes in wood trim, as builders can afford to use large quantities of it without going over budget as they might on Cherry or Walnut woods.
Knotty Alder has an inherent beauty to it, thanks to the rustic, knotted, yellow and reddish hues that it presents. For these reasons and because it is a relatively soft wood, it is often crafted by woodworkers and millworkers into rustic furniture, entry doors, artisan carvings, toys, veneers, cabinets, and even musical instruments. The pliability of the wood makes it ideal for carving and whittling projects.
No one can deny that there is a special style and sort of character to Knotty Alder. Mouldings made from Knotty Alder carry the texture of a foresty, "cabin in the woods" feel to them, which is why so many customers love these classic trim pieces. Plus, with relative affordability and ease of access to the lumber right here in the U.S., customers can buy high quantities of Knotty Alder and use it for a variety of projects.
[text-blocks id="2938″]
How Wood Vendors can Help You
At Wood Vendors, we are the experts in Knotty Alder mouldings. Our Knotty Alder mouldings are made of the finest quality, appearance-grade cuts. Knotty Alder has a grain similarity to walnut and cherry, but is easier to work with and is more affordable.
We can customize your selection of Knotty Alder mouldings, selecting pieces that have a certain color tint, that have knots or that do not have knots, all to your own specifications. You can give us a project sheet of what your project will need, and we will happily fill it for you! Feel free to fill out our online form or call our direct line at 1-877-983-6367 to get started on your walnut lumber selections.