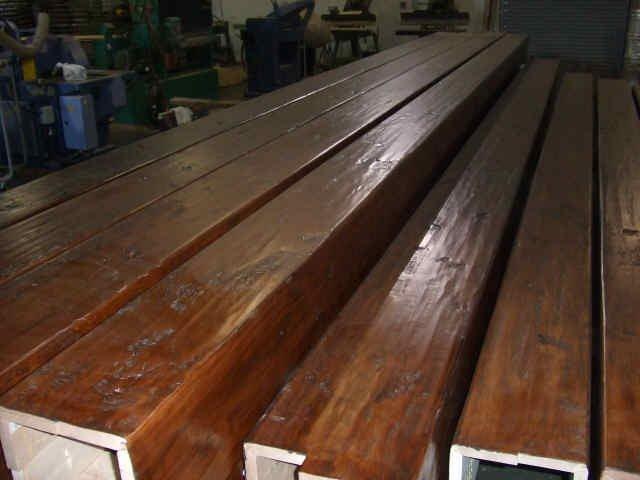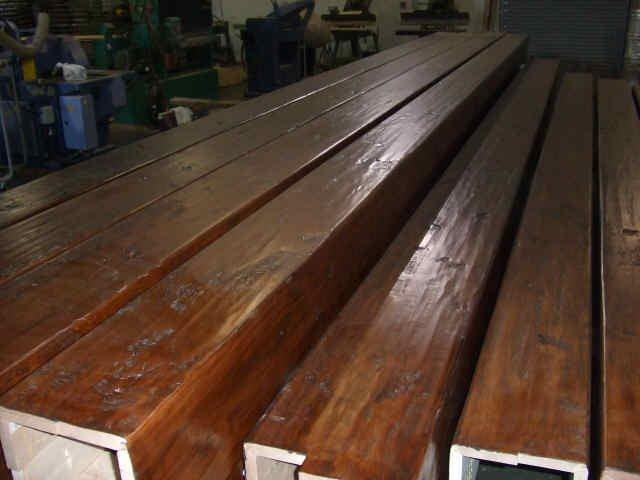 One of the best choices by far when it comes to selecting trim wood and moulding lumber for a home is Knotty Alder dimension. Knotty Alder dimensional lumber is affordable, plentiful, beautiful, unique in grain and knot pattern, and very easy to work with. The specie Alder is not known for long lengths but it does have outstanding workability and it finishes and machines very well. It can also be glued up and joined easily, and therefore Knotty Alder dimensional lumber can be ordered in essentially any width, thickness, length, or style.
Knotty Alder is technically a hardwood with a relatively soft Janka scale hardness of only 590 lbf. While it does not have a large amount of tensile strength that one might want for load bearing purposes, that is totally fine because Knotty Alder is easy to cut, carve, shape, and mold, making it ideal for millwork and trim carpentry projects. Such projects could make use of Knotty Alder moulding, Knotty Alder trim, or even casings and baseboard mouldings in Knotty Alder. Entire homes are often finished with Knotty Alder crown molding for its woodsy, unique, knotted, yellowed, and red-hued textures.
Knotty Alder logs are relatively easy to find, as they are indigenous to North America. The most prevalent forests of Knotty Alder are in British Columbia in Canada, and in the United States in Washington State and Oregon. These locales that are close to home for us Americans (we don't have to go to South America or Southeast Asia to get it) give Knotty Alder a strong preference as an affordable and beautiful wood for trim finishings in homes and buildings. Probably the most common Knotty Alder dimensional lumber is the 1×6 Knotty Alder.
Knotty Alder Dimension; Pre-made Lumber Arranged for Any Building Project
Knotty Alder slab lumber and Knotty Alder s4s are usually kiln dried, have a rustic appearance, have sound knots throughout the lumber pieces for an added, "wild and woodsy" flair, and are resplendent in their beautiful color variations. Knotty Alder trim has a mild grain and basic color consistency throughout, giving it a uniformity and a consistency of appearance that makes it ideal for using multiple cuts of the lumber throughout a project.
Each piece of Knotty Alder moulding, while unique and beautiful in its own right, will all look somewhat similar in color consistency and grain texture. This is why many contractors and homeowners select Knotty Alder trim to finish a home. The entire home can be finished with exquisite Knotty Alder baseboard moldings, trim, casings, and crown moldings that have a uniform consistency and strong aesthetic appeal to them.
[text-blocks id="2961″]
Benefits of Knotty Alder Dimension Lumber
Knotty Alder, as it is a supple and easily malleable wood, is perfect for baseboards, door casings, window trim, door jambs, and other projects that require wood that is easily joined, sanded and manipulated. In this way, Knotty Alder is the ideal choice because carpenters can work with it, bend it, mold it, manipulate it, and essentially get the wood to do exactly what they want it to do. They could not do that with Oak, Teak, Maple, Ash, etc.
Knotty Alder dimension lumber is easily machined and cut to size. The wood is easily stained, lacquered, varnished, epoxied, etc. The wood is exceptional for holding stains in a uniform fashion and for bonding well to glues, adhesives, epoxies, etc. The wood maintains its luster and grain patterns throughout, each piece taking a stain (for the most part) in the same way as the piece next to it did.
Knotty Alder trim boards have a grain pattern and knotty look that make them an ideal substitute for Walnut or Cherry lumbers. Knotty Alder is more affordable, so larger quantities can be procured for an entire home project as opposed to only being able to get Cherry or Walnut for part of the home.
[text-blocks id="2961″]
Wood Vendors has Knotty Alder Dimension Lumber
At Wood Vendors, we manufacture the most beautiful, high-quality Knotty Alder dimension lumber available. Our lumbers come directly from the Pacific Northwest, right from the source. As the logs do not have to travel far to reach us, this reduces costs and we pass those savings on to our customers.
When we mill Knotty Alder dimension lumber, we surface the four sides of the wood in our milling machinery to excellent specifications within .006". We use a Weinig Moulder to procure precise dimension lumber from out Knotty Alder logs, and we can also make Knotty Alder mouldings for our customers at the same price per linear foot, again, more savings for our customers. We can produce prefabricated T&G panels in Knotty Alder for T&G paneled ceilings, wainscoting, etc. We can even make faux Knotty Alder box beams too, which are resplendent and beautiful and a personal pride of ours.
[text-blocks id="2961″]
If you are interested in Knotty Alder dimension lumber for your next big project, don't hesitate to reach out to us at Wood Vendors. We can make any style, size, or length of Knotty Alder, and we'd be happy to fill a custom order for you. You can fill out our online form or call our direct line at 1-877-983-6367 to get started on your walnut lumber selections.