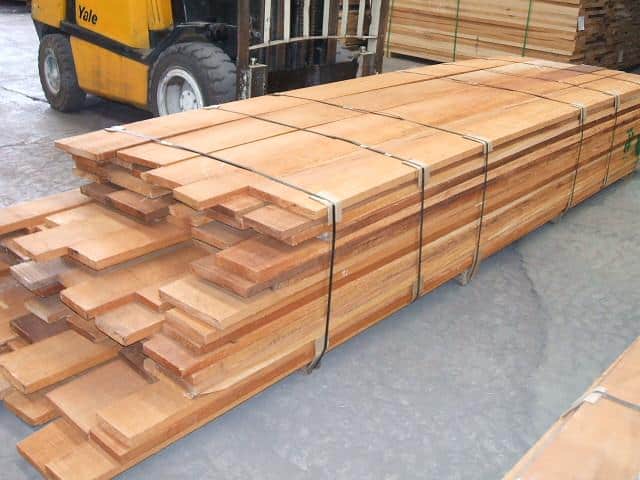 Genuine Mahogany lumber is a superb choice for many types of woodworking projects. Customers who know their woods and know what kind of project they want often request mahogany lumber, so contractors are wise to keep a diverse selection of mahogany pieces on hand.
Mahogany is something of a "celebrity wood" one could say, known for being prized and highly sought after. Mahogany is often found in pricey antiques, adding to the value and "fame" of this already impressive wood. Because just the term "mahogany" is instantly associated with high-class wood, mahogany is frequently requested on various woodworking projects, so it is beneficial for contractors to have a supply of it and to know how to work with this wooden wonder.
[text-blocks id="2702″]
The Benefits of Mahogany Lumber
In addition to being just downright beautiful, mahogany has many characteristics, uses, benefits, and capabilities. Mahogany is known for the following:
Mahogany has almost unlimited uses. Mahogany is often called, "The most stable hardwood," and not without good reason. The wood is less liable to warping, shrinking, swelling, twisting, and cracking than other woods are, which is why antique mahogany still looks so great after so many decades.
Mahogany has a natural affinity for a wide range of finishes, meaning it is almost infinitely customizable. Mahogany bonds easily with modern finishes, stains, and varnishes, which not only adds to its appeal as being infinitely customizable but also adds to its value as it can be preserved infinitely through sealant products.
Mahogany is unusually resistant to moisture and atmospheric change. This makes it the premier hardwood for contractors who specialize in fine woodwork. For example, if contractor has to make a fine, hardwood table in upstate New York but has to ship it to Florida, any other wood may experience deterioration over time in its new, Floridian home, replete with a completely different climate and humidity. Not mahogany, however. Mahogany is the best "insurance policy" in hardwood woodworking, as it maintains its appearance and stability in almost any environment.
Mahogany is very durable and resistant while still being moldable and malleable. As a hardwood, it ranks in Durability Class III, meaning it can be used as a decking product and will last for twenty-plus years in the worst of weather environments. It will last even longer than that in ideal weather conditions. Mahogany is also particularly resistant to rot, mold, and even termites when it is treated properly.
Mahogany is used in a wide variety of settings, which is why customers across the country often ask for it. Contractors should keep mahogany on hand and know how to work with it because it can be used for boat building, furniture, architectural millwork, musical instruments, decking, flooring, wall trim, doors and windows, artwork, etc. Mahogany also comes in a diverse and rich variety of color settings in the red, brown, and purple spectrums.
Despite being a very tough hardwood, mahogany offers excellent workability, can be ripped, molded, glued, pieced, and finished very easily with the right tools and know-how. Given its inherent fame as being a very popular hardwood and its almost infinite customizability, mahogany is a cherished wood and is found in many homes and projects.
[text-blocks id="2702″]
Why Customers Love Mahogany
Customers who hire contractors for wood-based projects or fine art projects love mahogany and often request it to be used in their project for a variety of reasons. Mahogany wood is beautiful, solid, durable, and lasts a lifetime. Mahogany naturally repels insects and pests through its inherent aroma. Mahogany does not deform or change with age, especially when sealed properly, which is easy to do. Mahogany offers a wide color difference, making each mahogany piece different and unique from the last. Mahogany is also a limited-production hardwood, so customers can be proud knowing that they own such a highly valued piece.
Wood Vendors; The Best Source for Mahogany Lumber
Wood Vendors offers a wide selection of mahogany lumbers in both rough-hewn and fully-finished styles. We can provide specific pulls of mahogany, based off of contractor needs. Our mahogany orders can be customized for your specific needs based on width, length, grain patterns, surfacing, and other characteristics. Fill out our online form or call our direct line today at 1-877- 983-6367 to place an order or to get pricing online on our beautiful mahogany lumber!